Not sure where to start? Take our FREE Match Me to a Consultant Quiz to determine which consultant best fits your personality! Take the Quiz
It's time to potty train your child. Now what?
Potty training a child can shake even the most confident parent. There's no shortage of forums and contradictory advice to sift through, making this hurdle all the more daunting. So what's the right method for your child?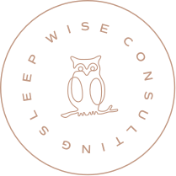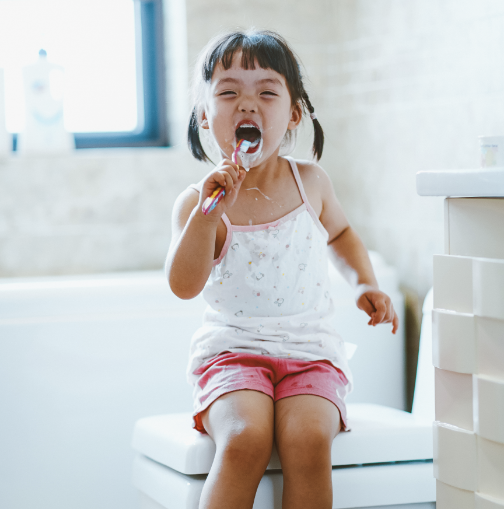 Tame the toilet (without tears).
No tears. No begging. No battle of the wills. Let's teach your little one to become Lord of the Loo.
The Potty Training Course is a self-paced virtual course that teaches you how to potty train your child with easy, building-block steps. We swap the confusion for a clear and comprehensive method that works for kids aged 18 months-5 years old.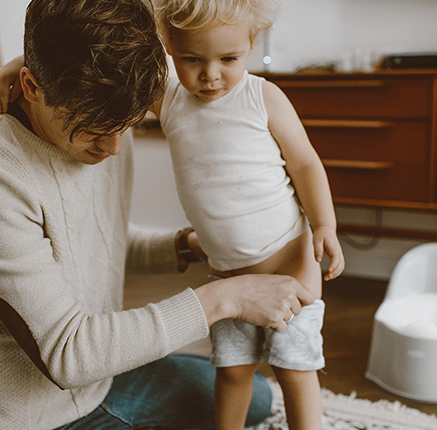 Is this you?
This course is for you if your child:
Is curious about the potty and/or talks about peeing or pooping
Can follow simple instructions like pulling down pants or walking to the bathroom
Is between 18 months-5 years old
Can stay dry for at least 2 hours
THE POTTY TRAINING COURSE AT A GLANCE

12 Short Pre-recorded
Video Lessons

Interactive Workbook

Katie's Tips & Encouragement (right in your inbox!)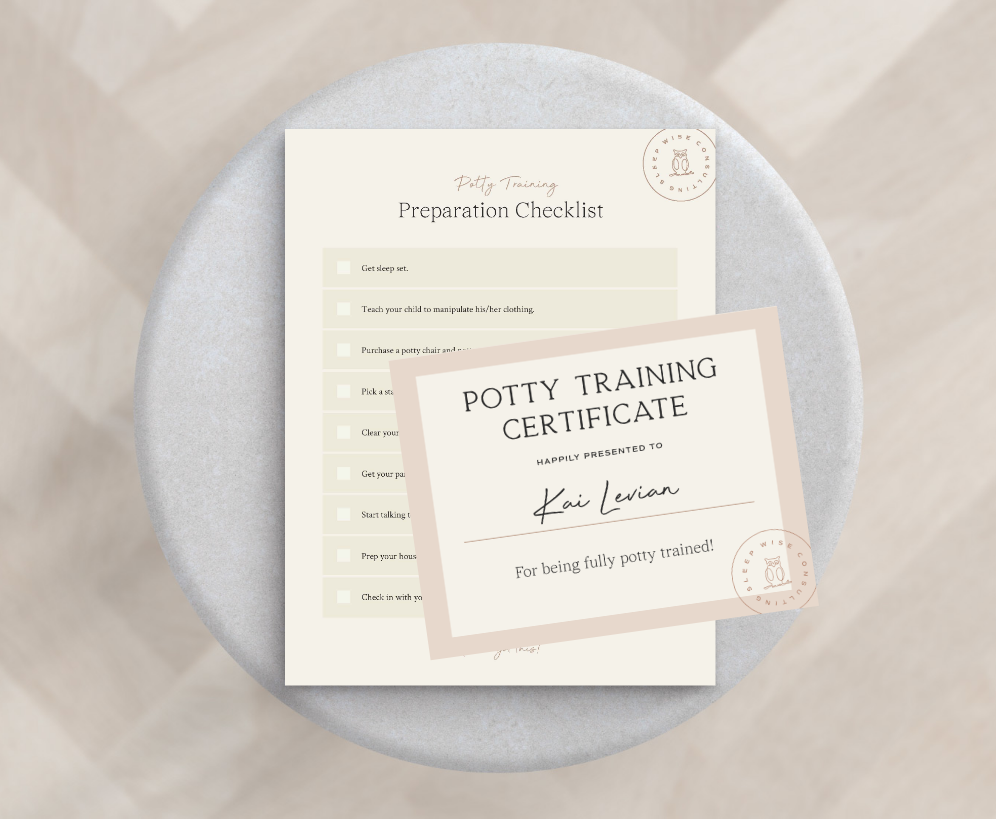 Bonus
When you purchase The Potty Training Course, you get exclusive access to:
The Potty Training Preparation Checklist

The Potty Training Social Media Signs

The Potty Training Countdown

The Potty Training Graduation Certificate
Peek Inside The Potty Training Course
We keep it sweet and simple while we cover all the bathroom bases. Here's a glimpse into what you'll learn.
Recognizing the Signs
(that your child is ready)

Pre-Potty Prep
(so day 1 isn't a disaster)

Parent's Mindset
(and why it's everything)

The Training Process
(with our building block framework)

Naps & Nighttime
(to keep the sheets dry)

All About Poop
(everything you've Googled and then some)

Daycare
(teaching them to use any potty, anywhere)

Common Questions
(regressions, pull-ups, and frequent fears)
Backed by Science. Proven by Happy Families.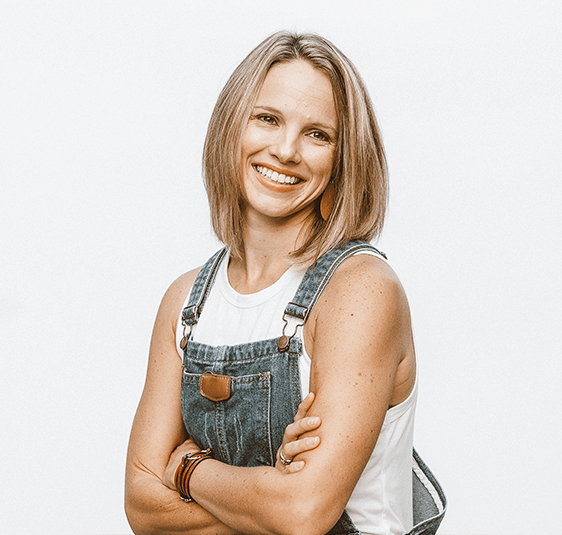 Hey there!
Hi! I'm Katie Pitts.
I'm the owner and founder of Sleep Wise Consulting. Our team of child development specialists, sleep experts, occupational therapists, nurse practitioners, special education teachers, and speech-language pathologists are united by a common mission: equipping parents with evidence-based tools to conquer the toughest challenges of early childhood.
But we're parents, too.
We've soothed midnight fevers and wiped the tears of three-year-olds who are convinced that "the poop is going to get them" (true story). That's why we distill the science into easy-to-understand methods for first-time and seasoned parents alike.
"Sleep Wise explained a potty training method in an easy to understand, concise way"
"When I found out Sleep Wise also had potty training help, I was so relieved."
"After developing a thorough plan with Sleep Wise's advice, we felt confident, well-supported, and prepared to tackle each stage with ease."
"I was impressed by how well it went and how few accidents we had after that initial potty training."
| | | | |
| --- | --- | --- | --- |
| All-in-one Course Platform | | | |
| All 6 Video Lessons | | | |
| Interactive Potty Training Workbook | | | |
| Science-Based Principles | | | |
| Answers to Frequently Asked Questions | | | |
| Potty Training Readiness Checklist | | | |
| 1:1 Getting Started Call | | | |
| Graduation Certificate | | | |
| Two 1:1 Troubleshooting Calls with a Certified Sleep Wise Potty Training Consultant | | | |
| Two Days of Voxer Support | | | |
| | | | |
Your questions, answered,
Why choose the Sleep Wise Potty Training Course?
While we respect that you have options, we know what a difference it makes to find a trusted, well-qualified, reputable, researched-based source of information, especially when it comes to important parenting advice!  Our potty-training course was developed in direct response to hundreds of happy sleep clients requesting our team's advice on this next major milestone in parenting: teaching children to use the toilet.   We are certified in the thoroughly-proven "Oh Crap!" Method of Potty Training, written by internationally recognized potty training and parenting expert, Jamie Glowacki, and our experience is extensive.  Thus, you won't be left wondering if the method can or will work!  We are here to help!
How long is this course?
Clocking in at under 2 hours, you can finish this course in less time than a reunion special of The Bachelor. We'll guide you step-by-step from diapers to wiping and everything in between.
How long will I have access to the course content?
FOREVER!  Your purchase never expires.  Our course offers you unique lifetime access so you can refer back to the great tips time and time again.  This ensures that you can work at your own pace.  Further, even if you choose to add to your family in the future, you will be well-prepared to tackle the potty training journey with any kiddo in your household.
Is this course live or self-paced?
The Potty Training Course is self-paced, so you can start training as soon as you're ready.
My toddler is young, but seems ready. Should we start?
Every child is different! If your toddler is showing curiosity for the potty, we say go for it. Our methods are easy to understand, even for kids under two.
Um, our 4-year-old is still in diapers. Can you help?
Don't stress, friend… We've worked with countless parents of potty-averse preschoolers. Our straightforward principles will have your big kid pooping on the potty with pride. 
My second child is totally different from my first. Help?!
We get it– nothing humbles a parent quite like the second child. Our course goes beyond the steps to help you understand what your child needs throughout the process, as well as the role you play. 
My kid is terrified of the toilet. Will this work?
Like everything we do at Sleep Wise, The Potty Training Course is evidence-based, simple, and effective. We tackle it all— from a parent's mindset to pull-ups, regressions, and common poop fears.  Rest assured that our Potty Training Course was written and developed by a certified potty training expert.  This process works time and time again!  When you implement our recommendations with fidelity, your child will become our next success story!
My child's in daycare. Will that complicate things?
This is a common struggle for parents. We address this head-on inside the course, so you can send them to daycare with confidence!
What if I need extra help?
We offer optional 1:1 support add-ons for parents who want a little extra support. You can choose your package here.